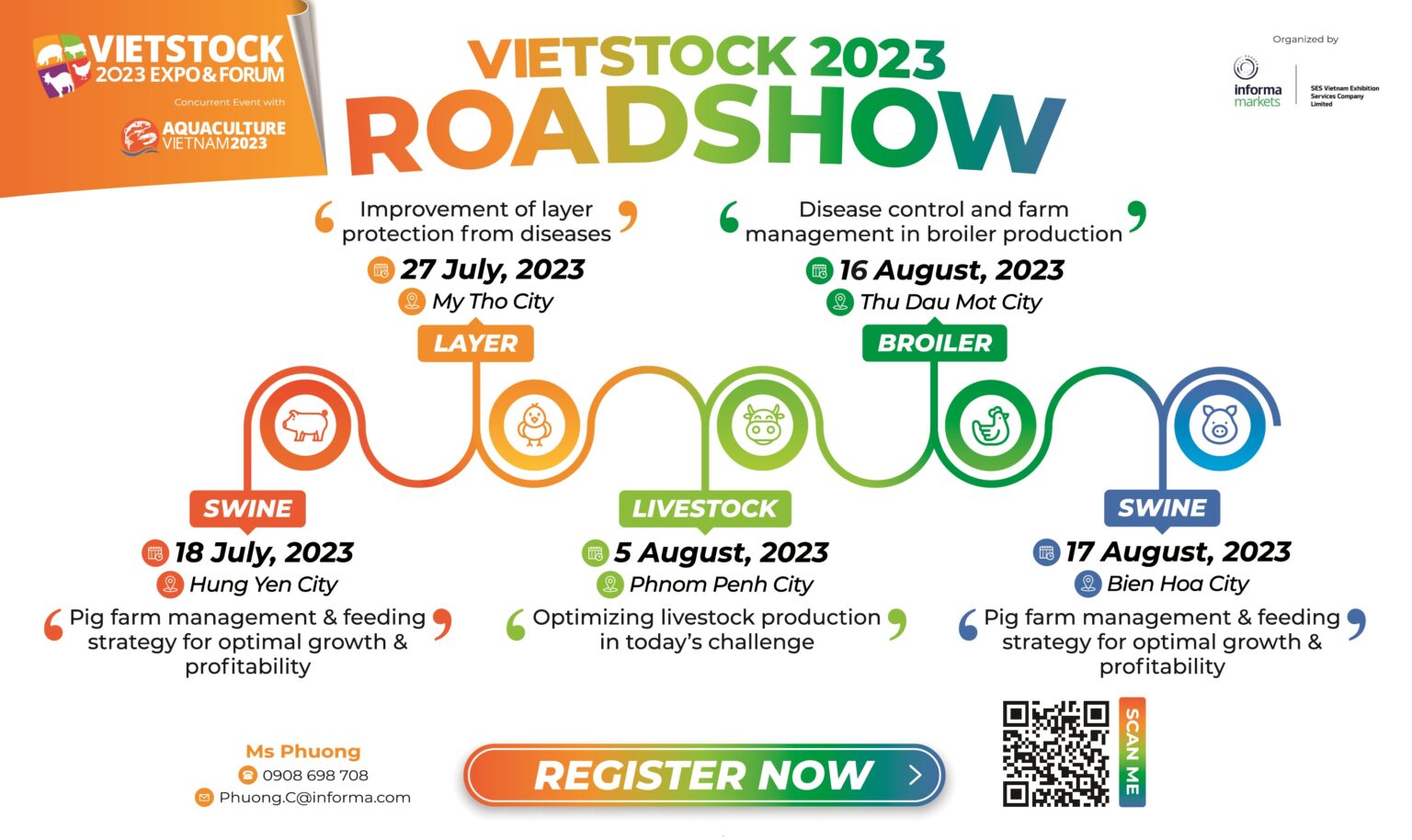 Before the exhibition on October 11-13, Vietstock officially launched 05 specialized roadshows in July and August in the livestock provinces: Hung Yen, Tien Giang, Binh Duong, Dong Nai and especially Phnom Penh, Cambodia.
Vietstock exhibition – A companion to the vietnam livestock industry
Organized for the first time in 2004, after nearly 20 years of accompanying the livestock industry in Vietnam, Vietstock is an extremely important platform and forum for the domestic livestock industry. With the support and cooperation from reputable government agencies, organizations and associations in the industry, Vietstock exhibition has the largest scale in Vietnam and the surrounding area, covering comprehensive solutions in the livestock, feed and meat processing.
Vietstock 2023 edition with an exhibition area of 11,000m2, is expected to have 350 exhibitors from more than 30 countries/regions, attracting more than 11,000 visitors from all over the world.
In 2023, VIETSTOCK and AQUACULTURE VIETNAM will be held for 3 days from October 11 to 13 at Saigon Exhibition and Convention Center (SECC), 799 Nguyen Van Linh, District 7, HCMC. This combination will bring more diverse solutions and opportunities to connect global businesses to the Vietnam livestock industry.
Series of specialized roadshows to promote the development of the Vietnam livestock industry
Vietstock accompanies leading experts to bring in-depth analysis and innovative solutions through a series of specialized seminars with 5 separated roadshow programs in key livestock provinces:
Effective swine farming
Topic: Pig farm management & feeding strategy for optimal growth & profitability

Seminar in the North of Vietnam: 8:30 – 12:00, Tuesday, July 18, 2023, Hung Yen City

Seminar in the South of Vietnam: 8:30 – 12:00, Thursday, August 17, 2023, Bien Hoa City
The workshop will share knowledge and experience on effective and sustainable pig production and recommended methods to maximize profits. This is also a forum for participants to have the opportunity to discuss with leading experts on important issues in pig production.
Promotion of poultry farming
Layer topic: Improvement of layer protection from diseases

Time: 8:30 – 12:00, Thursday, July 27, 2023

Location: My Tho City
The workshop focused on sharing experiences and solutions to protect layers from diseases. Towards the plans to implement practical methods, helping businesses and livestock households learn valuable lessons for the livestock model to continue to develop and replicate in the coming time.
Broiler topic: Disease control and farm management in broiler production

Time: 8:30 – 12:00, Wednesday, August 16, 2023

Location: Thu Dau Mot City
The broiler farming race is increasingly fierce with the diverse participation of domestic and foreign businesses. The current trend is large-scale husbandry, modern management and especially control and good disease safety. Focusing on the aspects of disease control and farm management, Vietstock's broiler production seminar will bring new approaches to today's advanced methods.
Sustainable development Livestock industry
Topic: Optimizing livestock production in today's challenge

Time: 8:30 – 12:00, Saturday, August 5, 2023

Location: Phnom Penh City, Cambodia
Vietnam's livestock industry is developing strongly in the direction of modernity, concentration and industrialization. However, the industry is facing many internal challenges and external influences. Therefore, the direction of the Ministry of Livestock Production is methods to help the livestock industry develop sustainably. Towards large livestock models, biosecurity, high-tech application, and a closed connection in the supply chain of the livestock industry will be the topics discussed actively at the Vietstock conference.
Online registration: https://forms.gle/vbrux2VsUAMJWzPd6
Vietstock 2023 – fast registration, great benefits
Useful, practical, and effective is the value motto of Vietstock 2023. In addition to a series of 5 roadshows in provinces and cities focusing on livestock, Vietstock 2023 also cooperates with Agricultural Extension Centers and Sub-Department of Animal Health to support transportation for farmers in remote areas to attend. At the same time, Vietstock provides a direct and online business connection platform, helping exhibitors and visitors to connect with the right partners.
Deputy Director of the Department of Livestock Production – Mr. Tong Xuan Chinh said: "Vietstock is an event that contributes to the modernization of the livestock industry and production of livestock products". Vietstock cordially invites businesses, experts and livestock farmers to access advanced solutions of the livestock industry quickly through online registration:
————————–
Info Box:
For more information, please contact our team:
Nguồn: Theo https://vietstock.org/
Vui lòng ghi rõ nguồn thuysan247.com khi sao chép bài viết này.
Liên hệ cung cấp thông tin và gửi tin bài cộng tác về email [email protected].
Nhấn nút "quan tâm" nếu bạn muốn nhận thông tin cập nhật từ chúng tôi trên Zalo.