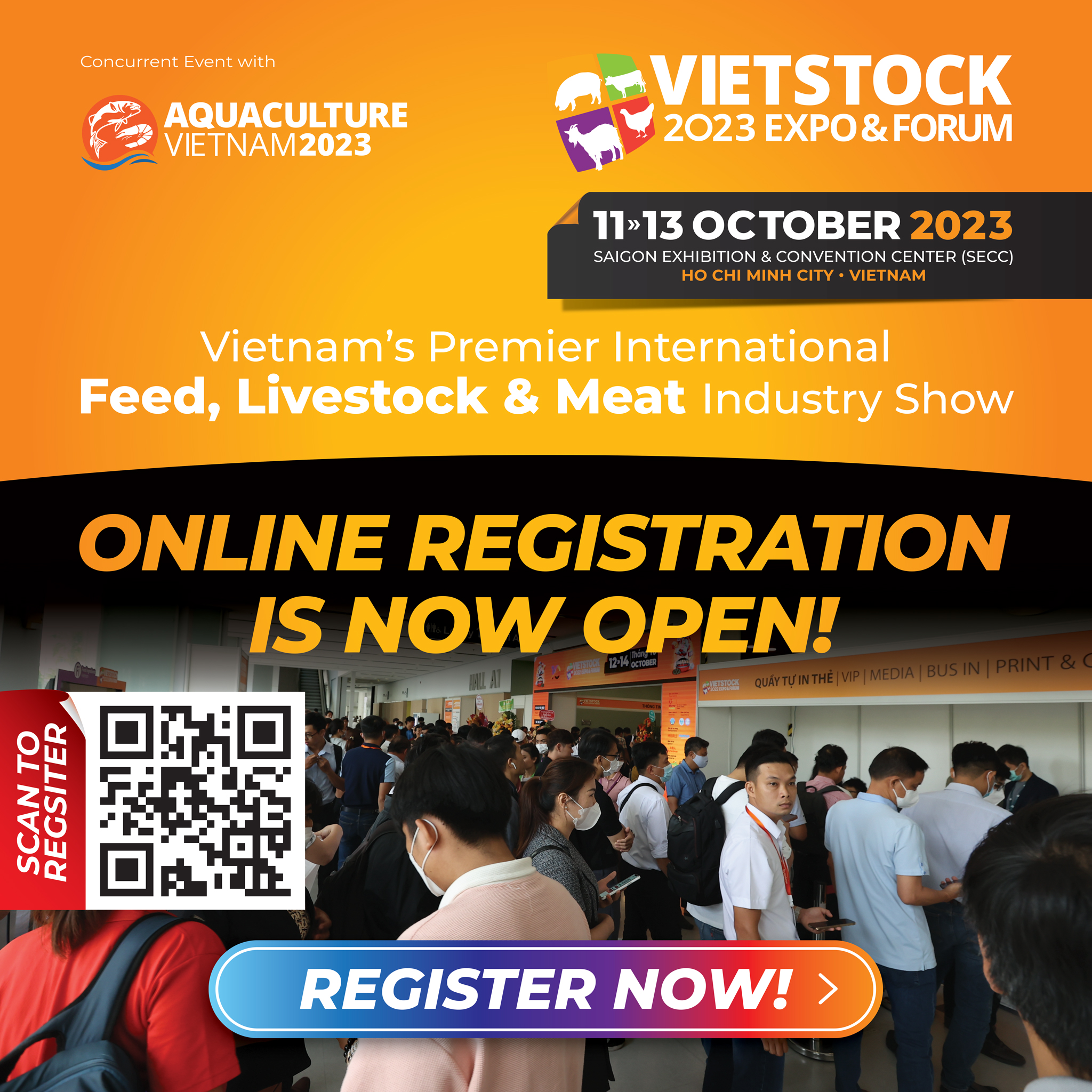 VIETSTOCK 2023 is The Premier International Feed, Livestock & Meat Industry show in Vietnam. The exhibition officially opened for registration on May 18, 2023.
Vietstock 2023 – Vietnam's leading livestock exhibition
VIETSTOCK 2023 will be the unique one-stop business platform for professionals in Vietnam & region, who involve in the farm-to-fork value chain for feed, livestock, meet & aquaculture products to meet up, create new business opportunities, come up with new ideas and solutions. VIETSTOCK 2023 will be co-located with Aquaculture Vietnam 2023, open up more opportunities for cooperation and business development.
VIETSTOCK 2023 will be held for 3 days from October 11 to 13, 2023 (Wednesday - Friday) At Saigon Exhibition and Convention Center (SECC), 799 Nguyen Van Linh, District 7, City. Ho Chi Minh City. At Vietstock, there are more than 350 exhibitors and more than 11,000 visitors from 30 different countries.

Open up new opportunities with Vietstock 2023
Visitors to Vietstock 2023 exhibition will be updated trends and market information through all technical & specialized seminars, presented by leading experts in the livestock and aquaculture industry, and meat processing comes from many countries.
At the same time, this is the perfect event to seek out new products, solutions and ideas from leading brands in the livestock, aquaculture and meat processing industries, perfect ways to grow their businesses and increase profits.
With over 11,000 visitors and 350 exhibitors, it was the perfect opportunity to network with industry professionals and establish new business relationships.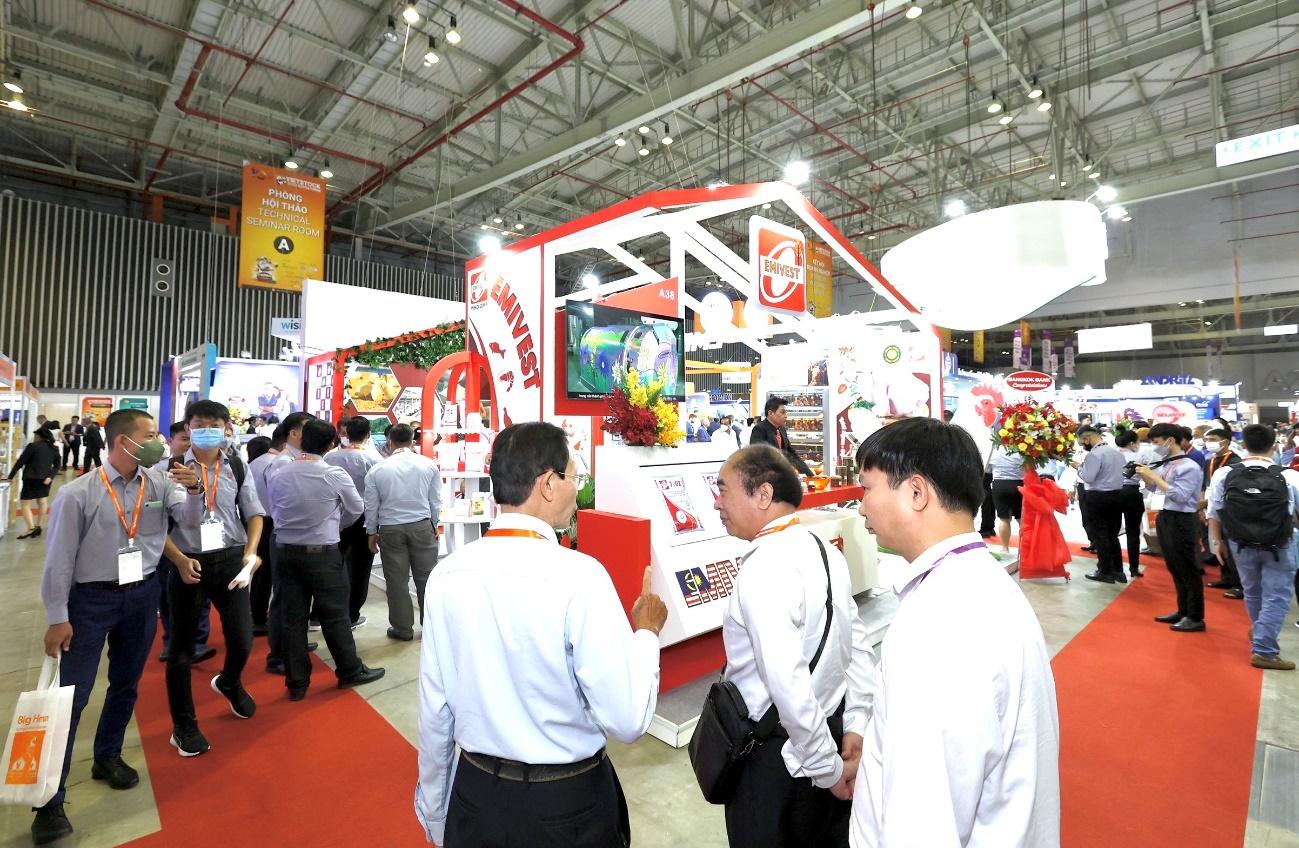 Vietstock 2023 – specialized exhibition on Feed, Livestock & Meat Industry
Register to visit Vietstock 2023 easily in 5 steps
Visitors to Vietstock 2023 can easily register online with just 5 quick steps. Visit the registration link: https://ers.ubmthailand.com/vs23 or scan the QR code at the image below.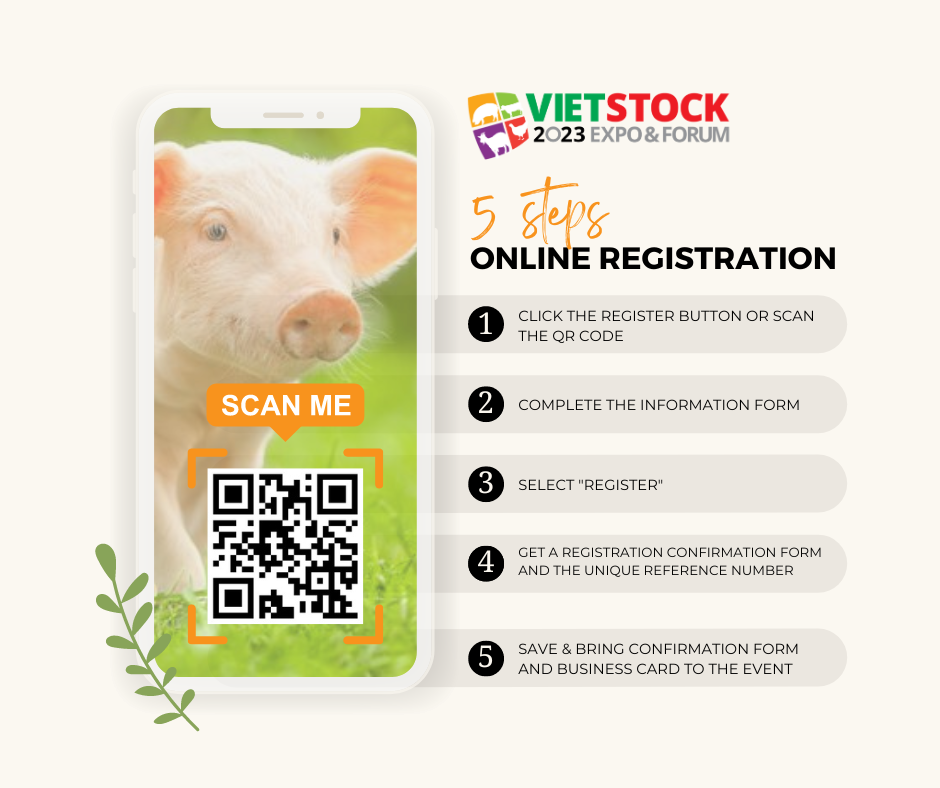 Welcome to the international exhibition - Vietstock 2023!
———————————-
Information box:
You can receive updates on livestock industry as well as relevant information about the event by REGISTER FOLLOWING us.
Nguồn: Theo VIETSTOCK 2023
Vui lòng ghi rõ nguồn thuysan247.com khi sao chép bài viết này.
Liên hệ cung cấp thông tin và gửi tin bài cộng tác về email [email protected].
Nhấn nút "quan tâm" nếu bạn muốn nhận thông tin cập nhật từ chúng tôi trên Zalo.