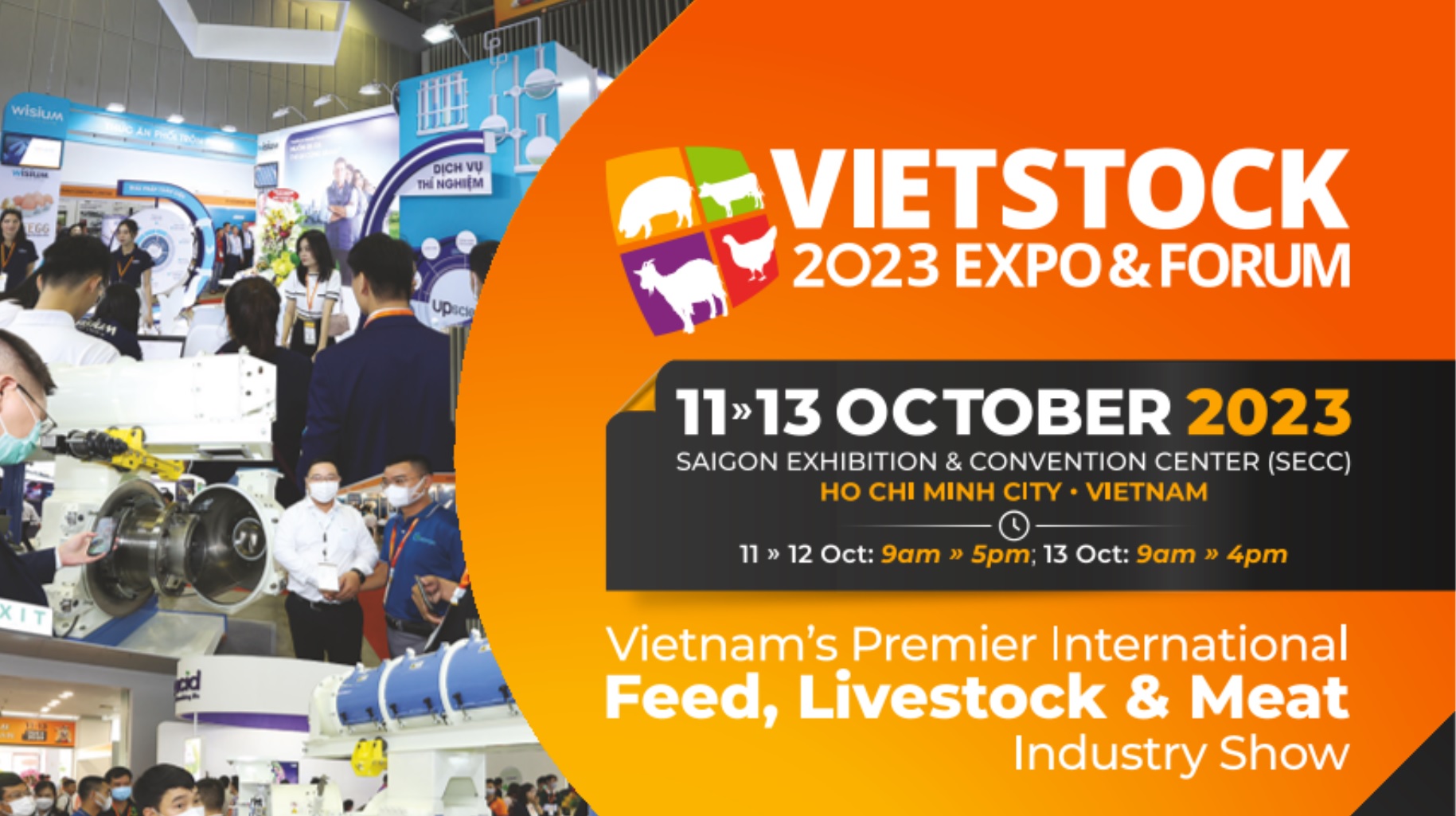 VIETSTOCK - The Vietnam's Premier International Feed, Livestock, Aquaculture & Meat Industry Show
PRESS RELEASE
VIETSTOCK 2023 EXHIBITION
08:00 | Tuesday | 26 September 2023
Song Hong Ballroom, Sheraton Hotel
K5 Nghi Tam, 11 Xuan Dieu, Tay Ho, Ha Noi
Dear journalists, media and news partners,
Being a strategic industry and has a crucial potential for the advancement of the Vietnam's agriculture sector, livestock industry has witnessed a stable growth in the recent years, accounting for more than one quarter (27%) of the sector's GDP in the first half of 2023. In 2022, the livestock business in Vietnam has registered a significant growth, reaching revenue of 21 billion dollars, equivalent to a rise of 5% to 6% compared to 2021.
Vietnam's outstanding economic and social development in recent times has brought many new opportunities for the livestock industry. For instance, Vietnam has the 7th fastest growing middle class in the world, reaching 50 million people by 2030. Young population, rapid urbanization and increasing income in both urban and rural areas drive the positive change of domestic livestock industry and food production.
Additionally, Vietnam's Free Trade Agreements are boosting the integration of the livestock's products into the largest consumer's markets in the world. With the increasing government support and technology advancement, Vietnam's livestock market is expected to grow 4% to 5% per year by 2025 and 3% to 4% from 2026 to 2030.
However, the domestic livestock industry is currently facing two major challenges. Firstly, relying heavily on imported materials. In fact, the volume of imported materials for animal feed in Vietnam per year is approximate 22 million tons, equivalent to 60% of the whole industry's demand. As a sign of weakness, this dependency has become worse when the world is going through an increasingly gloomy and uncertain outlook. Secondly, addressing climate change and diseases. Vietnam is one of the most vulnerable countries to climate change in the world. Storms, typhoons, floods, and extreme weather frequently threaten livestock development. Since infectious diseases are the greatest trouble to livestock production, the safe area dedicated to farm animals is the key solution that the Ministry of Agriculture and Rural Development of Vietnam has promoted and designed to implement.
VIETSTOCK exhibition is organized by the world's leading exhibition organizer - INFORMA MARKETS. VIETSTOCK is The Vietnam's Premier International Feed, Livestock, Aquaculture & Meat Industry Show, part of the livestock exhibition series in Asia. With nearly 20 years of organization, Vietstock accompanies with the Department of Livestock Production (MARD) and Department of Agriculture and Rural Development and Livestock Production and Animal Health Sub-Department in 63 provinces, as well as the industrial organizations and associations such as: Animal Husbandry Association of Vietnam - AHAV, Vietnam Ruminant Husbandry Association - VINARUHA, Vietnam Poultry Association - VIPA, Vietnam Fisheries Society - VINAFIS, International Collaborating Centre For Aquaculture And Fisheries Sustainability - ICAFIS, Agricultural Extension center, etc.
VIETSTOCK 2023 is a special edition, this is the event that marks Vietstock officially becoming an annual exhibition. Established in 2004, Vietstock understands the Vietnam market and the needs of businesses and livestock households. Vietstock 2023 will be held concurrently with AQUACULTURE VIETNAM 2023, which will be a comprehensive destination for the livestock, poultry, feed, aquaculture, and meat processing industries. Vietstock 2023 with the participation of more than 350 exhibitors is expected to attract more than 11,000 visitors from more than 30 countries.
Being the highlight activity of Vietstock 2023, VIETSTOCK AWARDS 2023 is endorsed by the Department of Livestock Production – The Ministry of Agriculture and Rural Development. With 11 editions, VIETSTOCK AWARD honored the esteemed businesses and organizations with valuable and outstanding activities in the livestock & aquaculture industry in Vietnam. With 18 livestock awards and 07 aquaculture awards, Vietstock Awards 2023 received positive responses and nominations from many livestock and aquaculture businesses in Vietnam and the international region. Vietstock Awards 2023 winners will be announced on the first day of the Vietstock exhibition, on October 11.
Vietstock always renews itself with a variety of programs and activities. Not only a B2B exhibition, Vietstock is a companion and business bridge of the livestock industry in Vietnam and the region. As an event contributing to the modernization of the livestock industry, Vietstock helps exhibitors and visitors connect quickly with just a few taps on the Leadex application. Following the online business matching platform, during the 3 days of the exhibition, the space for direct connection to ensure professionalism, formality and courtesy will be set up at Match & Meet Lounge for attendees' business meetings. Vietstock offers many new features to bring more interesting journey to visitors such as: Eggcellent Theater; Sustainability Square; Technologies, Products & Solutions showcase, etc.
Vietstock is not only a comprehensive business forum but also a creative scientific forum. Highlights at Vietstock 2023 are conferences and technical seminars with specialized topics such as: International Aquaculture conference, Poultry & Swine Production seminar; Dairy & Beef Conference; Technical Seminar in Feed & Nutrition; Animal Welfare Seminar and ASEAN Associations Round Table. A series of conferences and technical seminars will be held throughout the 3 days of the exhibition.
Vietstock 2023 exhibition will be held from October 11 to 13 (Wednesday to Friday), at SECC, 799 Nguyen Van Linh, Ho Chi Minh City. Vietstock 2023 cooperates with Agricultural Extension Centers, Sub-Departments of Veterinary Medicine in localities to organize visit programs, and transportation support (Bus-in Program) for livestock households in remote areas to the exhibition.
Welcome to Vietstock 2023 - One destination that opens up hundreds of business development values!
Vietstock sincerely thanks the Department of Livestock Production, The Ministry of Agriculture and Rural Development of Vietnam, organizations and associations, journalists, media and news partners.
Contact information
About organizer:
INFORMA MARKETS is the world's leading exhibition organizer. Informa Markets creates platforms for industries and specialist markets to trade, innovate and grow. Our portfolio is comprised of more than 550 international B2B events and brands in markets including Healthcare & Pharmaceuticals, Infrastructure, Construction & Real Estate, Fashion & Apparel, Livestock & Aquaculture, Hospitality, Food & Beverage, and Health & Nutrition, among others.
We provide customers and partners around the globe with opportunities to engage, experience and do business through face-to-face exhibitions, specialist digital content and actionable data solutions. As the world's leading exhibitions organizer, we bring a diverse range of specialist markets to life, unlocking opportunities and helping them to thrive 365 days of the year.
Nguồn: Theo VIETSTOCK 2023
Kính thưa quý độc giả, Thủy Sản 247 hiện đang là đối tác truyền thông uy tín của nhiều đơn vị báo chí, truyền thông, triển lãm, hội chợ chuyên ngành thủy sản trên toàn cầu. Với sứ mệnh kết nối truyền thông thủy sản, chúng tôi sẽ nỗ lực mang đến quý độc giả những thông tin hữu ích, kịp thời và uy tín. Để người nuôi tôm, cá và doanh nghiệp thuận tiện cho việc phát triển nuôi trồng và kinh doanh. Quý bạn đọc có thể tham khảo hệ sinh thái Thủy Sản 247 bằng cách bấm vào đây để biết thêm chi tiết.
BQT Thủy Sản 247 Group.
Vui lòng ghi rõ nguồn thuysan247.com khi sao chép bài viết này.
Liên hệ cung cấp thông tin và gửi tin bài cộng tác về email [email protected].
Nhấn nút "quan tâm" nếu bạn muốn nhận thông tin cập nhật từ chúng tôi trên Zalo.