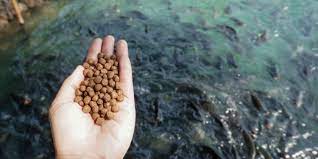 Vietnam Aquafeed Market is projected to register a CAGR of 5.7% over the forecast period.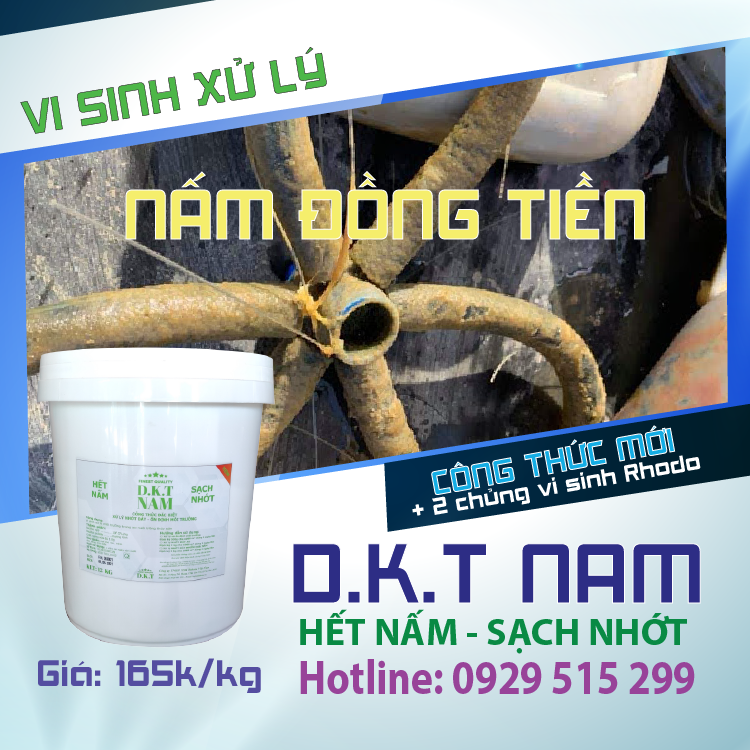 Vietnam Aquafeed Market Analysis​
Vietnam Aquafeed Market is projected to register a CAGR of 5.7% over the forecast period.
Aquafeeds' most commonly used raw materials are soybe

an meal, fishmeal, fish oil, and carp. Aquafeed is widely available in the form of pellets, which contain vital ingredients for fish, administered externally.

The pellets vary in size, depending on the species to be fed. In addition, the properties of these feeds can be altered to make them float on the water's surface or sink to the bottom of the tanks where fish are reared. Furthermore, the content of various nutrients in the feed can be controlled, resulting in the growth and rise in popularity of the aquafeed industry over the past few years.

A key factor driving the demand for aquafeed in the country is its large aquaculture market. According to Food and agricultural organization, after China, Indonesia, and India, Vietnam is currently the fourth-largest aquaculture producer of seafood. Likewise, changes in consumer diet habits, increased seafood consumption in the country, and rising earnings have positively impacted the aquafeed business. Some of Vietnam's most popular seafood products are shrimp, tuna, pangasius, and marine fish.

Furthermore, increased exports, strong government backing, developments in feed manufacturing technology, rising knowledge about the adoption of modern feeding techniques, and so on are some key factors boosting the market. Moreover, existing manufacturers in the country have extended their production capacity due to the rising demand. Several new players have just entered the market.

In addition, government initiatives to increase the production of certified sustainable seafood are further accelerating the aquafeed requirement in Vietnam. According to the national plan for 2022, Vietnam's total export revenue of shrimp products is expected to hit USD 10 billion by 2025. The accumulated brackish water shrimp farming area is set at 750,000. In contrast, the total shrimp output is over 1.15 million metric tons, as mentioned by the Vietnam Association of Seafood Exporters and Producers (VASEP). To cover this target, the government is focusing on improving the production of black tiger shrimp, primarily due to the higher price compared to white leg shrimp. It is expected to augment the demand while expanding the customer base for black tiger shrimp feed over the forecast period.
Vietnam Aquafeed Industry Segmentation​
Aquafeed is a mixture of raw materials, additives, and other supplements, sourced from natural or synthetic sources and fed to farmed fish. The Vietnam Aquafeed Market is segmented by feed type (species (white leg shrimp (Litopenaeus vannamei), giant tiger prawn (Penaeus monodon), pangasius, carp, catfish, tilapia, and other species). The report offers the market size and forecasts in volume in metric tons and value in USD thousand for all the above segments.
Species

Feed Type

White Leg Shrimp (Litopenaeus vannamei)

Giant Tiger Prawn (Penaeus Monodon)

Pangasius

Carp

Catfish

Tilapia

Other Species
Vietnam Aquafeed Market Trends​
This section covers the major market trends shaping the Vietnam Aquafeed Market according to our research experts:
Increase in Export Demand for Aquaculture Products​
The growing demand for aquaculture products directly affects the production of high-yield aquafeed. Intensive aquaculture depends on commercially manufactured aquafeed, though most inland farmers in the country rely on farm-made feed. As a member of ASEAN, Vietnam is involved in several bilateral and free trade agreements, which created a massive demand for Vietnamese aquaculture products in significant economies, such as the United States, North America, China, and India.
Additionally, in 2020, the European Union and Vietnam signed a free trade agreement that allowed more seafood products to flow into the EU. According to the Vietnam Association of Seafood Exporters and Producers (VASEP), Vietnam's tuna exports to the EU continued to grow well in September 2022, reaching nearly USD 31 million, up 33% over the same period in 2021.
More than 50 enterprises are currently exporting tuna to the EU. Bidifisco, Tuna Vietnam, and FoodTech are the three largest tuna exporters to this market, accounting for approximately 45% of the country's total tuna export turnover to the EU.
Since there is export-oriented cultivation happening in the country, there is more likelihood of market expansion. It is because more and more people will invest in feed. Hence the quality of the meal that will be used will be better, which is expected to boost the aquafeed demand considerably in the country during the forecast period.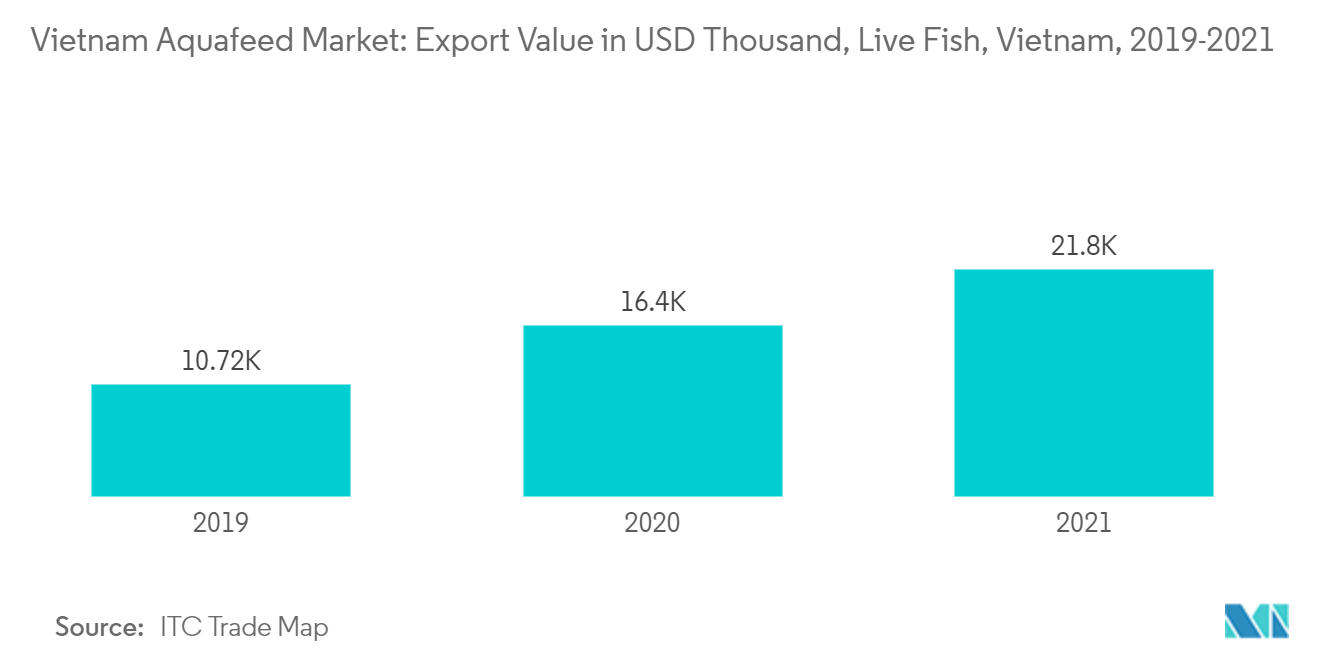 White Leg Shrimp is the Fastest growing​
According to the Department for Agriculture and Rural Development, Vietnamese farmers continue to move away from raising black tiger shrimp (Penaeus monodon) and toward the cheaper white leg or Pacific white shrimp (Litopenaeus vannamei). White shrimp is less expensive to raise and grows faster. Increasing profits to combat the global economic slump is the main reason for the switch. The potential to make more money from the white shrimp prompted farmers to move from Vietnam's central region to non-program farming areas such as the Cuu Long River Delta.
Vietnamese farmers in the non-GAP system had individual farms with experience ranging from eight to twelve years of shrimp farming. As the development of the shrimp industry in the province is new, they operated intensive models of Litopenaeus vannamei farming for around five years.
Vietnamese farmers primarily use manufactured compound aquafeeds and do not utilize supplemental feeds such as trash fish and small shrimp. According to the FAO, in Vietnam, feed conversion ratios for white leg shrimps vary between 1.1:1 and 1.2:1. Higher feed conversion ratios encourage farmers to invest heavily in feed. It results in higher stocking densities of shrimps.
According to Vietnam's Department of Fisheries (DoF), shrimp production in the country increased from 2019 to 2020. The authority reports a 10% increase in Litopenaeus vannamei production to 632,000 metric tons. The species is one of the highly consumed and exported shrimps with economic significance in Vietnam. Mekong Delta is Vietnam's central aquaculture production region, which is responsible for producing most of the shrimp.
Thus, numerous semi-intensive and intensive giant tiger prawn farmers are focusing on switching to white-leg shrimp culture. It is resulting in an expanded market for white-leg shrimp feed. These factors are expected to drive the country's demand for white-leg shrimp feed.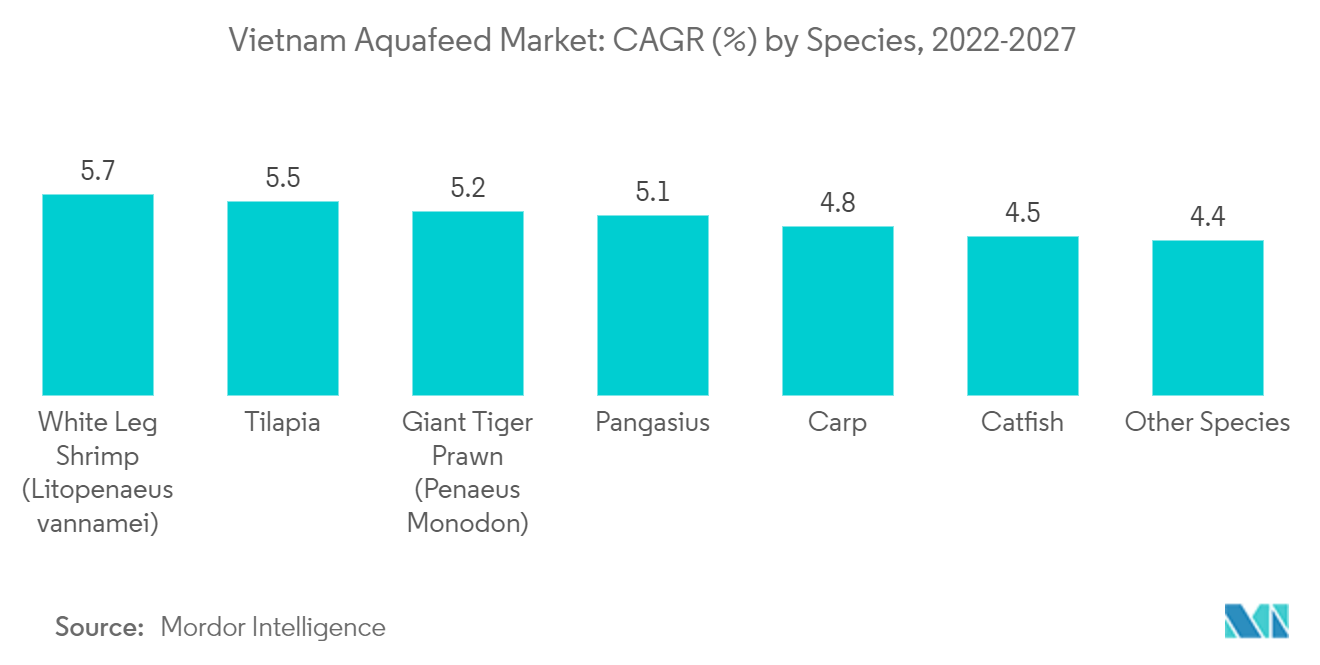 Vietnam Aquafeed Industry Overview​
The Vietnamese aquaculture feed market is consolidated in nature, with the significant players Nutreco NV, Charoen Pokphand Group, Archer Daniels Midland Co., De Heus Vietnam, and Cargill holding a considerable share of the aquafeed market. The key players are not only competing based on product quality and promotion but are also focused on strategic moves such as expansions to gain a larger market share.
Nguồn: Theo mordorintelligence.com
Vui lòng ghi rõ nguồn thuysan247.com khi sao chép bài viết này.
Liên hệ cung cấp thông tin và gửi tin bài cộng tác về email [email protected].
Nhấn nút "quan tâm" nếu bạn muốn nhận thông tin cập nhật từ chúng tôi trên Zalo.